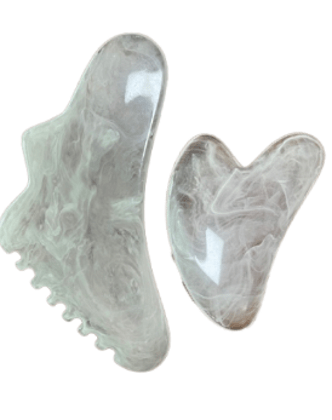 Body and Face Gua Sha Set
---
Our Gua Sha is a facial massage tool that pairs perfectly with serums and oils to boost skin's appearance and luminosity. As you are gliding it across your face, you'll gently stimulate the skin to promote long-lasting beauty.
Gua Sha refers to the ancient technique of massaging the body and face in a "scraping" motion. This effective treatment helps ease muscle tension, increases stimulation, and regulates your body's chi.
KEY BENEFITS:

Promotes circulation to relieve facial tension

Helps to reduce the appearance of puffiness

Enriches your skin- and body-care routine
HOW TO USE: 
Body Gua Sha: Use a body oil or serum that provides a lot of slip. For lymphatic drainage, start from the center of the chest and move the gua sha towards the heart. For the back and larger areas, start from the bottom and move in an upwards direction. For extra pressure, use the smaller ridges and divots on acupressure points. Use 2-3x a week.
Face Gua Sha: Use with a facial oil or serum that provides a lot of slip. Start from the center of your face and scrape outwards using firm pressure. Use the small divot on the nose bridge, between brows and jawline, and use the larger edges on cheeks and forehead. Use 3x a week or as often as desired.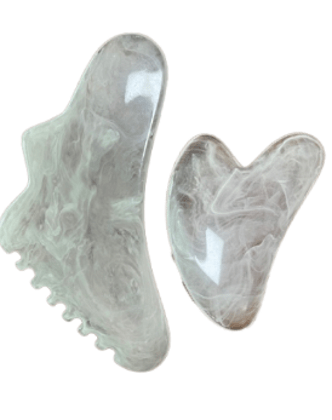 This product has no reviews yet.